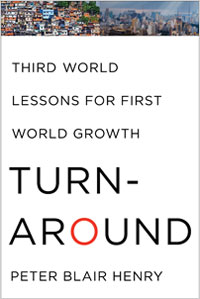 Order TURNAROUND
Amazon • Barnes & Noble • Books-A-Million • IndieBound • Buy from Basic Books/Perseus

What Is Turnaround?
At the heart of TURNAROUND is a 30+year history of economic reform in developing countries (today's emerging markets) and the troubled economies of advanced nations today. With discipline, clarity, and trust, there is a hopeful way forward.
Discipline does not mean harsh or extreme positions, like insisting on fiscal austerity. TURNAROUND defines discipline as: a sustained commitment to long-term prosperity that is vigilant, flexible, and values the entire population of a country over any one individual or group.
TURNAROUND focuses on facts and evaluates the history of reform in developing countries by using the objective lens of local stock markets as a complement to traditional growth measures. The data leave little doubt that countries that seek to increase growth and improve economic efficiency should favor market-friendly policies.
Interdependence defines today's global economy, and now more than ever, trust is critical. Prosperity for all hinges on whether advanced nations acknowledge the achievements of emerging economies and give them a leadership role commensurate with their contributions to the global economy. If they don't, growth could grind to a halt in emerging economies. Neither developing nor developed countries can afford to let this happen.


"A timely, provocative, and instructive book for policymakers, CEOs, and ordinary citizens alike. It's a new world, and Peter Henry shares the lessons with us all."

Tom Brokaw, NBC News Special Correspondent and author of The Time of Our Lives
"Peter Henry had the original thought that the experiences of 'emerging economies' may contain lessons for advanced economies. He shows that they do, but not in any crude cookie-cutter way. The vital common thread is the capacity to form a future-oriented policy and stick to it with discipline. This is why we—all of us—need grown-ups."

Robert M. Solow,

Nobel Laureate in Economics (1987)
"A riveting tour of postwar world growth, replete with policy successes and devastating mistakes, Turnaround is essential reading for anyone willing to be convinced that learning should be a two-way street between advanced and developing economies."

Michael Spence,

Nobel Laureate in Economics (2001)
"Tempering the 'dismal science' with a healthy dose of optimism, Turnaround exposes sobering realities of the world economy, yet paints a hopeful picture of prosperity for the countries of Africa and, indeed, all nations."

Her Excellency Ellen Johnson Sirleaf,

President of Liberia and Nobel Peace Laureate (2011)
"A child of the Third World risen to First World academic prominence, Peter Henry effectively bridges both worlds, offering a vision of what leaders can achieve if they take the long road, implementing sensible economic policies with accountability, integrity, and persistence."

Ngozi Okonjo-Iweala,

Minister of Finance of Nigeria
"Turnaround is not only highly readable, it ought to be read by specialists and by policymakers who will inevitably have to deal with the issues that Henry so expertly analyzes."

Stanley Fischer,

Governor of the Bank of Israel
"A compelling analysis of the trends that are transforming emerging markets and a practical assessment of what it all means for the global economy."

Kenneth I. Chenault,

Chairman and CEO, American Express Company
Don't Miss What's Next
Early 2015
• 2/26 – PBH honored by the Foreign Policy Association
• 3/12 – Induction to New Trier Alumni Hall of Honor
In Case You Missed It
Forgot to catch a broadcast segment? Behind on your reading or missed an event? As they say in Jamaica, No problem. Past appearances, interviews, and articles are archived here. The events page also includes links and photos.

Watch More, Listen More: Broadcast Clips
Read More: Articles