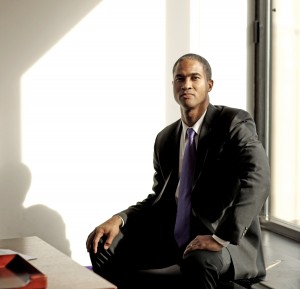 PETER BLAIR HENRY is the Dean of New York University's Leonard N. Stern School of Business. Named to the position two days before his 40th birthday, he assumed the Deanship in January 2010. Peter came to Stern from the Stanford University Graduate School of Business, where he was the Konosuke Matsushita Professor of International Economics.
In 2008, he led Barack Obama's Presidential Transition Team in its review of international lending agencies such as the IMF and the World Bank. In June 2009, President Obama appointed Peter to the President's Commission on White House Fellowships.
A member of the board of directors of the National Bureau of Economic Research, the Council on Foreign Relations, Citi, and formerly Kraft Foods, Inc., Peter is also a Nonresident Senior Fellow of the Brookings Institution. In 2015, he was awarded the Foreign Policy Association Medal, the highest honor bestowed by the organization.
The author of numerous academic articles and book chapters, Peter is best known for a series of publications that overturn conventional wisdom on the topics of debt relief, international capital flows, and the role of institutions in economic growth.  The most provocative of these pieces, Institutions vs. Policies: A Tale of Two Islands inspired NPR's Planet Money and This American Life to travel with Peter to the Caribbean for a first-hand view of the economic disparities between Barbados and Jamaica.
Peter's first lesson in international economics actually came at the age of eight, when his family moved from Jamaica to affluent Wilmette, Illinois, triggering his lifelong interest in the question of why average standards of living differ so greatly across the globe.
Peter's writing also appears in Global Crises, Global Solutions, the published proceedings of the Copenhagen Consensus, an international conference on how to make the most efficient use of the world's scarcest resources. The Economist magazine named the conference publication one of the Best Business Books of 2004.
Peter received his PhD in economics from the Massachusetts Institute of Technology (MIT).  Prior to his studies at MIT, Peter earned a Bachelor's degree in mathematics from Oxford University, where he was a Rhodes Scholar and earned a full blue in basketball as a starting forward in the 1992 Varsity match, when Oxford trounced Cambridge by the score of 75-46.
Prior to rubbing shoulders with the British collegiate basketball elite, Peter earned a Bachelors degree in economics from the University of North Carolina at Chapel Hill, where he was a Morehead Scholar, a member of Phi Beta Kappa, a reserve wide receiver on the football team, and a finalist in the 1991 campus-wide slam dunk competition.
Born in Kingston, Jamaica, in 1969, Peter became a US citizen in 1986. He lives in New York City with his wife of 17 years and their four sons.